Our Clergy
Benjamin Sharff – Senior Rabbi
Rabbi Benjamin Sharff joined Temple Israel in 2023. He is the son of Rabbi Robert and Linda Sharff. He grew up in Houston, TX, where he was raised in the Reform Movement and regularly attended URJ's Greene Family Camp in Bruceville, Texas.

He graduated from the University of Texas in 1996 with a Bachelor of Arts in Psychology. He did his Graduate Studies in American History at Sam Houston State University and then attended Hebrew Union College - Jewish Institute of Religion in Cincinnati and was ordained in 2004.

Prior to joining us at Temple Israel, Rabbi Sharff served congregations in Tucson, AZ; Baltimore, MD and Nyack, NY. He is passionate about helping people explore their own Jewish journeys. He is also a Brickner Fellow and a passionate advocate for all things social justice.

In addition, Rabbi has played rhythm guitar in several worship bands and is a fan of movies, comic books, and baseball.

Rabbi Sharff is happily married to Dr. Joy Sharff and together, they have three children Emily, Noah, and Alex.
Rabbi Deana Sussman Berezin – Rabbi

Rabbi Deana Sussman Berezin, known for her warm and welcoming presence, engages congregants in moments of joyful Jewish living and learning. She is the friendly face that invites people of all ages into synagogue life to find connection and inspiration. Her rabbinate is filled with pastoral care, community building, moments of ritual creativity and innovation, and acts of tikkun olam (repair of the world).
Building, fostering, and sustaining relationships are the foundation of Rabbi Berezin's rabbinate because she understands that they are the cornerstones to meaningful engagement in Jewish life. She is a fully present pastoral caregiver and an inspiring and intentional community builder who makes every person feel known. Rabbi Berezin thrives in a collaborative environment and enjoys cultivating opportunities to partner with clergy, staff, and lay leaders to create moments of spiritual connection, caring community, and meaningful learning.
Along with her synagogue and pulpit responsibilities, Rabbi Berezin is passionate about supporting the broader community and ensuring that Reform Jewish values and voices are represented. She has served on numerous committees at the Jewish Federation of Omaha, sits on the Board of Directors for Together Omaha, the Nebraska Religious Council for Reproductive Freedom, and Friedel Jewish Academy, and is a faculty member at URJ Camp Olin-Sang-Ruby Union Institute (OSRUI).
Previously, Rabbi Berezin served as the Rabbi Educator at Central Reform Congregation in St. Louis, Missouri. As a student, she served congregations in Santa Ana, Lancaster, and Ventura, California as well as on the China Lake Naval Air and Weapons Station. She held internships at Jewish World Watch as the Harold M. Schulweis Rabbinic Intern and at Our House Grief Support Center, where she received training in grief support for both children and adults.
After graduating as a Phi Beta Kappa from Indiana University where she double majored in Jewish Studies and Religious Studies and double minored in Hebrew and Psychology, Rabbi Berezin attended Hebrew Union College-Jewish Institute of Religion and was ordained in Los Angeles in May 2014. Her thesis was entitled "Ritual Reimagined: The Theory, Practice, and Innovation of Lifecycle Rituals."

Rabbi Berezin's writing has appeared in The Social Justice Torah Commentary and the CCAR Journal: The Reform Jewish Quarterly.

Rabbi Berezin and her husband, Jared Berezin, have two children, Robbie and Jack.
Cantor Joanna Alexander
Cantor Alexander is an experienced and talented cantor who is beloved by her congregants and colleagues alike for her warmth, her wisdom, and her sincerity. Both in her congregation and in the broader Reform movement, she has built a reputation as a dedicated and reliable clergy partner, a loving pastoral caregiver, and a skilled leader of innovation in ways that honor and affirm tradition. She enjoys teaching children to love Jewish music and is passionate about helping teens develop a Jewish ethical approach to navigating life's challenges.
Cantor Alexander lives in Omaha with her husband Jacob and their three children, Evelyn, Brianna, and Brian.


Rabbi Aryeh Azriel – Rabbi Emeritus
Rabbi Azriel was the Senior Rabbi at Temple Israel from 1988-2016. After retirement, he is now the Rabbi Emeritus. Born and raised in Tel Aviv, he was invited to be a counselor at OSRUI, a Reform Jewish summer camp in Oconomowoc, Wisconsin, in 1973. Rabbi Azriel received his ordination and Master of Arts in Hebrew Letters in 1983 from Hebrew Union College – Jewish Institute of Religion in Cincinnati. He served as an Associate Rabbi at the Baltimore Hebrew Congregation in Baltimore, Maryland, until 1988.
Rabbi Azriel was the recipient of the Otto Swanson Spirit of Service Award in 1993, and in 1997 received the Martin Luther King, Jr. – Living the Dream Award, recognizing his continuing work on building cooperation with projects such as the Mitzvah Garden, Black/Jewish Dialogue and Habitat for Humanity. He also received the Human Relations Award from the Omaha Education Association. Further in 2008 he received his Doctor of Divinity from Hebrew Union College. Rabbi Azriel has been a visionary in directing the focus of the Tri Faith Initiative in Omaha, NE as a globally unique project that when complete will locate a synagogue, church and mosque together on one campus with a common desire to foster mutual understanding, respect and friendship.


Cantor Wendy Shermet – Cantor Emerita
Cantor Wendy Shermet retired in 2019 after serving Temple Israel for 18 wonderful years. She has a Master of Music Degree from the New England Conservatory of Music, and ordination and a Master of Sacred Music from Hebrew Union College – Jewish Institute of Religion.
Our STAff
Nate Shapiro
Executive Director

Nate brings experience as a synagogue executive director and a strong knowledge of the Omaha Jewish community to this role. Coupled with his calm and easy-going disposition, great sense of humor, love of Judaism and friendly, outgoing nature, Nate's experience and know-how make him an ideal fit for Temple Israel's team.
Nate previously worked as the Executive Director at Beth Israel Synagogue, the Director of Development for the Jewish Federation of Omaha, and a Campaign Coordinator for the United Way of the Midlands. He spent several summers at Camp Young Judaea in Waupaca, Wisconsin, and also served in the Israel Defense Forces (IDF). Nate has a degree in English with a minor in Judaic Studies from the University of Nebraska in Lincoln.
Nate and his wife, Carly, are members of Temple Israel and are active in the Jewish Community. They had their first child, Naomi, in July 2020 and their second child, Gabriel, in 2022.

Jennie Gates Beckman
Director of Education

Jennie brings 20+ years of experience working with youth & families seeking ways to "do Jewish" and began that journey teaching religious school right here at Temple Israel. Having served as an educator in a variety of organizations around the country, Jennie has a passion for creating joyful Jewish experiences, and has always centered her engagement and teaching around core Jewish values.
She received a B.A. in studio art from UNO and a M.A. in Jewish Communal Service & Non-Profit Management from Brandeis University. Jennie started her post-graduate career in Baltimore, gaining experience in campaign, leadership development and volunteer management at Federation. She then worked for a national organization elevating the role of volunteers in Jewish Family Service agencies. Jennie and her husband David returned to Omaha after 12 years on the east coast to be closer to family while raising their own.
In her most recent role as the Director of Community Engagement & Education for the Jewish Federation of Omaha (JFO), she led the team tasked with inspiring Jewish connections, promoting lifelong, innovative Jewish learning, and contributing to community planning to ensure a strong Jewish Omaha. Outside of work you will find her running around outside with her children Sadie & Walter, gardening, photographing food, and reading.
Stefanie Baguian

Director of Communications
Stefanie Baguian joined Temple Israel in the Autumn of 2022. She has a background in Marketing and Corporate Communications. She is a proud Iowa State alumna, where she studied Marketing and International Studies. She loves to travel and experience new places, cultures, and most importantly - new foods! She's been married to her husband, Abdramane, since 2014 and they have two beautiful daughters, Adanya and Aleaja.
Mindi Marburg

Director of Engagement and Events
Mindi is friendly, energetic, outgoing, hard-working, and passionate about Jewish life, qualities that make her the perfect fit for this role. Having grown up at Temple Israel, Mindi has deep roots in our congregation and in the Omaha Jewish community. Since returning to Omaha several years ago, Mindi has been active as a Jewish educator, teaching religious school at Beth El, and as a volunteer leader at Temple Israel. Mindi's many recent contributions to our congregation having been meaningful and impactful, including her work as co-chair of our Adult Purim Bash (both last year and this year), as a participant in our Leadership Development class, as a member of our Temple Board of Trustees, and as the co-chair of the search committee that found and selected Ben Mazur as our Director of Congregational Learning.

Misty Weidner

Office Manager
Misty began working at Temple Israel in 2006. She previously worked for nine years as Office Manager at a meat packing plant. She grew up in Defiance, Iowa and currently lives in Minden, Iowa with her husband Bryan and two sons, Brody and Tyler. In her free time, Misty enjoys golfing, scrapbooking, and spending time with family.
Michelle Shea

Accounting
Michelle was born and raised in Omaha and joined the Temple Israel staff in 2016 as an Administrative Assistant and was promoted to her Accounting position in 2023. She attended Arizona State University and previously worked as an advocate for elder care in various communities in the Omaha area. Michelle loves being a mom to her two sons and in her free time enjoys horticulture, painting, reading, hiking, the outdoors, and spending time with family.
Heather Lake

Administrative Assistant

Heather Lake was born and raised in Kansas (Rock Chalk!) and has now lived in Omaha for over 10 years. She has 4 kids and is married to Zach. She graduated from Emporia State University to become a registered nurse. Heather's biggest passion is for learning Spanish. She recently went to Mexico to practice her Spanish (and eat!) and will visit Spain in the winter. She also is a foodie and loves trying new and interesting restaurants.
Scott Anderson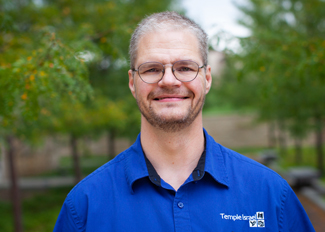 Building Manager
Scott was born and raised here in Omaha. He attended the college of life, majoring in "jack-of-all-trades." He's worked in many areas and has been at Temple Israel since 2008. Scott has owned many pets including dogs, gerbils and frogs. He enjoys collecting crystals/rocks and creating art in his free time.
Mon, September 25 2023 10 Tishrei 5784