Our Clergy
Rabbi Batsheva Appel – Interim Rabbi
Rabbi Batsheva Appel has served congregations in a variety of different roles, as a sabbatical rabbi, rabbi educator, settled rabbi, and interim rabbi, including serving as Director of Rabbinic Services for the Goldring/Woldenberg Institute of Southern Jewish Life, located in Jackson, Mississippi. The rabbinate has brought her to congregations in the South and the Southwest, the Midwest, and the Northeast. Rabbi Appel is a trained Mussar facilitator and is part of the national faculty for teaching the URJ's Introduction to Judaism Online.
Rabbi Batsheva Appel is a certified Interim Rabbi living in Baton Rouge, Louisiana. A native of Seattle, she graduated from Wellesley College with a Bachelor of Arts degree in Biological Sciences and Economics and entered the corporate world, first working in a research laboratory and then in sales and marketing. Rabbi Appel was an active layperson in her congregation, singing in the choir, taking classes, and serving on the Board of Directors, when she decided to become a rabbi. She attended Hebrew Union College–Jewish Institute of Religion.

Rabbi Appel is passionate about community, especially diversity. She values relationships with people of all backgrounds and is empathetic, warm, and a compassionate listener. Rabbi Appel understands that the connections in community can be based on something as important as the cookies served at Oneg Shabbat.

Highly collaborative, Rabbi Appel is a compelling preacher and teacher who believes in the transformative power and spiritual connections of Jewish learning for all ages. She is also leveraging the innovative possibilities of technology, yet still uses a fountain pen.

Rabbi Appel's hobbies include reading, playing D&D, doing the New York Times Spelling Bee, hiking, and competitive sock knitting. One of her goals is to go back to the Grand Canyon for a rim-to-rim hike.
Rabbi Deana Sussman Berezin – Associate Rabbi

Rabbi Berezin is a native of St. Louis, Missouri. She served as the Rabbi Educator at Central Reform Congregation, a vibrant congregation of 780 households in the city of St. Louis. Rabbi Berezin attended HUC-JIR in Los Angeles. She earned a Master of Arts in Jewish Education and was ordained in May of 2014. In addition to student pulpits at Temple Beth Torah, Temple Beth Shalom, Beth Knesset Bamidbar, and at the China Lake Naval Air and Weapons Station, Rabbi Berezin served as the Harold M. Schulweis Rabbinic Intern at Jewish World Watch, an organization that promotes education, advocacy and action around issues of genocide and mass atrocities. She had a second rabbinic internship at Our House Grief Support Center, providing pastoral care to both children and adults. Prior to her enrollment in rabbinic school, Rabbi Berezin attended Indiana University, graduating Phi Beta Kappa with a Bachelor of Arts degree in Jewish Studies and Religious Studies and a double minor in Hebrew and Psychology. Rabbi Berezin married Jared Berezin in 2016.
Cantor Joanna Alexander
Cantor Alexander is an experienced and talented cantor who is beloved by her congregants and colleagues alike for her warmth, her wisdom, and her sincerity. Both in her congregation and in the broader Reform movement, she has built a reputation as a dedicated and reliable clergy partner, a loving pastoral caregiver, and a skilled leader of innovation in ways that honor and affirm tradition. She enjoys teaching children to love Jewish music and is passionate about helping teens develop a Jewish ethical approach to navigating life's challenges.
Cantor Alexander lives in Omaha with her husband Jacob and their three children, Evelyn, Brianna, and Brian.


Rabbi Aryeh Azriel – Rabbi Emeritus
Rabbi Azriel was the Senior Rabbi at Temple Israel from 1988-2016. After retirement, he is now the Rabbi Emeritus. Born and raised in Tel Aviv, he was invited to be a counselor at OSRUI, a Reform Jewish summer camp in Oconomowoc, Wisconsin, in 1973. Rabbi Azriel received his ordination and Master of Arts in Hebrew Letters in 1983 from Hebrew Union College – Jewish Institute of Religion in Cincinnati. He served as an Associate Rabbi at the Baltimore Hebrew Congregation in Baltimore, Maryland, until 1988.
Rabbi Azriel was the recipient of the Otto Swanson Spirit of Service Award in 1993, and in 1997 received the Martin Luther King, Jr. – Living the Dream Award, recognizing his continuing work on building cooperation with projects such as the Mitzvah Garden, Black/Jewish Dialogue and Habitat for Humanity. He also received the Human Relations Award from the Omaha Education Association. Further in 2008 he received his Doctor of Divinity from Hebrew Union College. Rabbi Azriel has been a visionary in directing the focus of the Tri Faith Initiative in Omaha, NE as a globally unique project that when complete will locate a synagogue, church and mosque together on one campus with a common desire to foster mutual understanding, respect and friendship.


Cantor Wendy Shermet – Cantor Emerita
Cantor Wendy Shermet retired in 2019 after serving Temple Israel for 18 wonderful years. She has a Master of Music Degree from the New England Conservatory of Music, and ordination and a Master of Sacred Music from Hebrew Union College – Jewish Institute of Religion.
Our STAff
Nate Shapiro
Executive Director

Nate brings experience as a synagogue executive director and a strong knowledge of the Omaha Jewish community to this role. Coupled with his calm and easy-going disposition, great sense of humor, love of Judaism and friendly, outgoing nature, Nate's experience and know-how make him an ideal fit for Temple Israel's team.
Nate previously worked as the Executive Director at Beth Israel Synagogue, the Director of Development for the Jewish Federation of Omaha, and a Campaign Coordinator for the United Way of the Midlands. He spent several summers at Camp Young Judaea in Waupaca, Wisconsin, and also served in the Israel Defense Forces (IDF). Nate has a degree in English with a minor in Judaic Studies from the University of Nebraska in Lincoln.
Nate and his wife, Carly, are members of Temple Israel and are active in the Jewish Community. They had their first child, Naomi, in July 2020.

Jennie Gates Beckman
Director of Education

Jennie brings 20+ years of experience working with youth & families seeking ways to "do Jewish" and began that journey teaching religious school right here at Temple Israel. Having served as an educator in a variety of organizations around the country, Jennie has a passion for creating joyful Jewish experiences, and has always centered her engagement and teaching around core Jewish values.
She received a B.A. in studio art from UNO and a M.A. in Jewish Communal Service & Non-Profit Management from Brandeis University. Jennie started her post-graduate career in Baltimore, gaining experience in campaign, leadership development and volunteer management at Federation. She then worked for a national organization elevating the role of volunteers in Jewish Family Service agencies. Jennie and her husband David returned to Omaha after 12 years on the east coast to be closer to family while raising their own.
In her most recent role as the Director of Community Engagement & Education for the Jewish Federation of Omaha (JFO), she led the team tasked with inspiring Jewish connections, promoting lifelong, innovative Jewish learning, and contributing to community planning to ensure a strong Jewish Omaha. Outside of work you will find her running around outside with her children Sadie & Walter, gardening, photographing food, and reading.
Stefanie Baguian

Director of Communications
Stefanie Baguian joined Temple Israel in the Autumn of 2022. She has a background in Marketing and Corporate Communications. She is a proud Iowa State alumna, where she studied Marketing and International Studies. She loves to travel and experience new places, cultures, and most importantly - new foods! She's been married to her husband, Abdramane, since 2014 and they have two beautiful daughters, Adanya and Aleaja.
Mindi Marburg

Director of Engagement and Events
Mindi is friendly, energetic, outgoing, hard-working, and passionate about Jewish life, qualities that make her the perfect fit for this role. Having grown up at Temple Israel, Mindi has deep roots in our congregation and in the Omaha Jewish community. Since returning to Omaha several years ago, Mindi has been active as a Jewish educator, teaching religious school at Beth El, and as a volunteer leader at Temple Israel. Mindi's many recent contributions to our congregation having been meaningful and impactful, including her work as co-chair of our Adult Purim Bash (both last year and this year), as a participant in our Leadership Development class, as a member of our Temple Board of Trustees, and as the co-chair of the search committee that found and selected Ben Mazur as our Director of Congregational Learning.

Misty Weidner

Office Manager
Misty began working at Temple Israel in 2006. She previously worked for nine years as Office Manager at a meat packing plant. She grew up in Defiance, Iowa and currently lives in Minden, Iowa with her husband Bryan and two sons, Brody and Tyler. In her free time, Misty enjoys golfing, scrapbooking, and spending time with family.
Jay Ascher

Director of Youth Engagement
Jay is from Maplewood, New Jersey and is a recent graduate of Lafayette College in Easton, Pennsylvania, where he graduated with a B.A. in Film and Media Studies and a B.A. in Theater. In high school Jay was president of his temple's youth group, and in college he was on the executive board and general board of Hillel and a peer educator for various DEI and educational organizations. Jay has previously worked as the Director of Media and Assistant Campus Head at Camp Mah-Kee-Nac. He also worked alongside the Programming Director at Temple Sharey Tefilo-Israel in South Orange, New Jersey to create programs for children and teens.
In his free time, Jay can be found creating short films, reading, watching awful romantic comedies, and exploring nature.
Michelle Shea

Administrative Assistant
Michelle was born and raised in Omaha and joined the Temple Israel staff in 2016. She attended Arizona State University and previously worked as an advocate for elder care in various communities in the Omaha area. Michelle loves being a mom to her two sons and in her free time enjoys horticulture, painting, reading, hiking, the outdoors, and spending time with family.
Jeff Schweid

Accounting

Jeff was born in New York City and lived there until he moved to a dairy farm in Connecticut at age 12. He has a BS in Biochemistry from Marietta College in Ohio, a Masters Degree in Food Science from the University of Georgia, and a Master of Arts in Business from Central Michigan University. He spent 38 years in the Food Industry and then joined the Temple Israel staff in 2018 after retiring and had to fill the big shoes of Vicki Ducharme. Jeff has also served on the Temple Israel Board and been treasurer 3 times.
Jeff has two grown daughters, one in Seattle and one in Denver. He sings in two choirs, Kol Rina at Temple Israel and the Mastersingers of Omaha, and loves music, especially jazz and classical. In his free time, Jeff enjoys reading, theater, running, biking, and exercise. His other hobby is sports car racing and he volunteers as a corner worker for the Sports Car Club of America and has traveled all over the US and Canada working races. Jeff currently lives in Carter Lake and has two cats.

Scott Anderson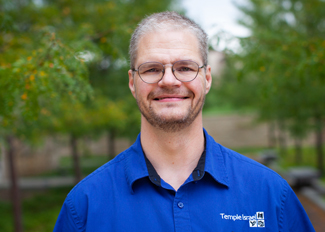 Building Supervisor
Scott was born and raised here in Omaha. He attended the college of life, majoring in "jack-of-all-trades." He's worked in many areas and has been at Temple Israel since 2008. Scott has owned many pets including dogs, gerbils and frogs. He enjoys collecting crystals/rocks and creating art in his free time.
Mon, November 28 2022 4 Kislev 5783