Our Clergy
Rabbi A. Brian Stoller – Senior Rabbi
Rabbi Stoller joined Temple Israel as Senior Rabbi in 2017. He is a friendly, patient, and welcoming presence known for greeting people warmly, remembering our names, and just being himself. He is also an energetic, knowledgable, and passionate teacher who challenges us intellectually and guides us in mining Judaism's sacred texts for insights that will help us navigate the unique circumstances of our own lives. As a prayer leader, he strives to pray not on behalf of his congregants, but with us, so that together we can rise toward the heavens. Most importantly, he is a caring and devoted relationship-builder who genuinely enjoys people and wants to be our friend. As Rabbi Stoller has said, "I just go out there and try to be myself because I believe that, in the end, all of us are seeking the same thing: to feel loved, to find meaning and purpose in life, and to be embraced by people who genuinely care. In my view, a synagogue's mission is to create this kind of community for its members. All the rest, as they say, is commentary."
Following the dictum that "the teacher of Torah must be a student of Torah throughout his life," Rabbi Stoller is currently pursuing a doctorate in halakhah (Jewish law) and has published a number of essays on Jewish law, practice, and theology. He is an active member of the Central Conference of American Rabbis (CCAR), serving on the Responsa Committee, the annual convention planning team, and the editorial board of the CCAR Journal. Rabbi Stoller received his ordination from Hebrew Union College-Jewish Institute of Religion's Cincinnati campus in 2008, and served as Associate Rabbi of Congregation BJBE in Deerfield, IL from 2008-2017. He grew up in Houston, TX (Congregation Emanu El), and earned a degree in Honors Business and Finance from the University of Texas at Austin in 1996.
Before entering rabbinic school, Rabbi Stoller spent seven years in professional politics, working on campaigns in Texas, Colorado, and Illinois, and serving as Press Secretary to then-U.S. Senator Peter Fitzgerald (IL) in Washington, DC from 1999-2003. After seeing the Pentagon burn from his office window on September 11, 2001 and learning of a childhood friend's death from brain cancer a year later, Brian knew the time had come to follow his deeply-held desire to become a rabbi. "It was then that I finally understood: life is fragile; we do not know how long we are going to be here," he has said. "For several years, I had been too fearful, too anxious about change to pursue what I knew in my heart I wanted to do with my life, but now I was ready to go for it. Aside from marrying Karen and starting a family, it was the best decision I have ever made."
Rabbi Stoller is proud to be part of Temple Israel, which he describes as "a warm, friendly, welcoming, close-knit congregation, with the vision and the courage to change our community and our world for the better." He lives in Omaha with his wife Karen and his two children, Lindsay and Zachary. In his free time, Rabbi Stoller enjoys reading classical Jewish texts (yes, really!), cycling, and re-watching episodes of "Curb Your Enthusiasm."

Rabbi Deana Sussman Berezin – Associate Rabbi

Rabbi Berezin is a native of St. Louis, Missouri. She served as the Rabbi Educator at Central Reform Congregation, a vibrant congregation of 780 households in the city of St. Louis. Rabbi Berezin attended HUC-JIR in Los Angeles. She earned a Master of Arts in Jewish Education and was ordained in May of 2014. In addition to student pulpits at Temple Beth Torah, Temple Beth Shalom, Beth Knesset Bamidbar, and at the China Lake Naval Air and Weapons Station, Rabbi Berezin served as the Harold M. Schulweis Rabbinic Intern at Jewish World Watch, an organization that promotes education, advocacy and action around issues of genocide and mass atrocities. She had a second rabbinic internship at Our House Grief Support Center, providing pastoral care to both children and adults. Prior to her enrollment in rabbinic school, Rabbi Berezin attended Indiana University, graduating Phi Beta Kappa with a Bachelor of Arts degree in Jewish Studies and Religious Studies and a double minor in Hebrew and Psychology. Rabbi Berezin married Jared Berezin in 2016.
Cantor Joanna Alexander
Cantor Alexander is an experienced and talented cantor who is beloved by her congregants and colleagues alike for her warmth, her wisdom, and her sincerity. Both in her congregation and in the broader Reform movement, she has built a reputation as a dedicated and reliable clergy partner, a loving pastoral caregiver, and a skilled leader of innovation in ways that honor and affirm tradition. She enjoys teaching children to love Jewish music and is passionate about helping teens develop a Jewish ethical approach to navigating life's challenges.
Cantor Alexander lives in Omaha with her husband Jacob and their three children, Evelyn, Brianna, and Brian.



Rabbi Aryeh Azriel – Rabbi Emeritus
Rabbi Azriel was the Senior Rabbi at Temple Israel from 1988-2016. After retirement, he is now the Rabbi Emeritus. Born and raised in Tel Aviv, he was invited to be a counselor at OSRUI, a Reform Jewish summer camp in Oconomowoc, Wisconsin, in 1973. Rabbi Azriel received his ordination and Master of Arts in Hebrew Letters in 1983 from Hebrew Union College – Jewish Institute of Religion in Cincinnati. He served as an Associate Rabbi at the Baltimore Hebrew Congregation in Baltimore, Maryland, until 1988.
Rabbi Azriel was the recipient of the Otto Swanson Spirit of Service Award in 1993, and in 1997 received the Martin Luther King, Jr. – Living the Dream Award, recognizing his continuing work on building cooperation with projects such as the Mitzvah Garden, Black/Jewish Dialogue and Habitat for Humanity. He also received the Human Relations Award from the Omaha Education Association. Further in 2008 he received his Doctor of Divinity from Hebrew Union College. Rabbi Azriel has been a visionary in directing the focus of the Tri Faith Initiative in Omaha, NE as a globally unique project that when complete will locate a synagogue, church and mosque together on one campus with a common desire to foster mutual understanding, respect and friendship.

Cantor Wendy Shermet – Cantor Emerita
Cantor Wendy Shermet retired in 2019 after serving Temple Israel for 18 wonderful years. She has a Master of Music Degree from the New England Conservatory of Music, and ordination and a Master of Sacred Music from Hebrew Union College – Jewish Institute of Religion.
Our STAff
Nate Shapiro
Executive Director

Nate brings experience as a synagogue executive director and a strong knowledge of the Omaha Jewish community to this role. Coupled with his calm and easy-going disposition, great sense of humor, love of Judaism and friendly, outgoing nature, Nate's experience and know-how make him an ideal fit for Temple Israel's team.
Nate previously worked as the Executive Director at Beth Israel Synagogue, the Director of Development for the Jewish Federation of Omaha, and a Campaign Coordinator for the United Way of the Midlands. He spent several summers at Camp Young Judaea in Waupaca, Wisconsin, and also served in the Israel Defense Forces (IDF). Nate has a degree in English with a minor in Judaic Studies from the University of Nebraska in Lincoln.
Nate and his wife, Carly, are members of Temple Israel and are active in the Jewish Community. They had their first child, Naomi, in July 2020.

Ben Mazur
Director of Congregational Learning
Ben grew up outside of Charlotte, North Carolina, as an active member of his temple youth programs. He was a NFTY regional board member in high school and later became the president of Hillel at NC State University where he received a degree in Religious Studies. Ben spent time working at synagogues in the Raleigh and Boston areas before landing in Santa Barbara, CA, where he spent seven years as the Director of Youth Engagement at a Reform congregation. He has also spent ten years as Jewish overnight camp staff and as a counselor and song leader for NFTY events, and was awarded lifetime membership to NFTY-SoCal for all he provided to the region. Ben is currently pursuing a master's degree in Jewish education in Hebrew Union College's Executive Master's Program for synagogue educators. His wife, Dalia, is working on her doctoral dissertation in English literature. Ben and Dalia moved to Omaha to join the Temple Israel community in 2019. Feel free to ask Ben about his history as a comedian and ballroom dance competitor.

Cassandra Hicks Weisenburger
Director of Communications
Cassandra Weisenburger moved to Omaha in 2006 to attend Creighton University where she majored in Graphic Design and Photojournalism. Cassandra has worked for Temple Israel since 2011 and also does photography on the side. She was married in August 2017 to her husband, Joel Weisenburger. She has two cats, Gizmo and Bob, and enjoys spending her free time volunteering at the Nebraska Humane Society.

Mindi Marburg
Director of Engagement and Events
Mindi is friendly, energetic, outgoing, hard-working, and passionate about Jewish life, qualities that make her the perfect fit for this role. Having grown up at Temple Israel, Mindi has deep roots in our congregation and in the Omaha Jewish community. Since returning to Omaha several years ago, Mindi has been active as a Jewish educator, teaching religious school at Beth El, and as a volunteer leader at Temple Israel. Mindi's many recent contributions to our congregation having been meaningful and impactful, including her work as co-chair of our Adult Purim Bash (both last year and this year), as a participant in our Leadership Development class, as a member of our Temple Board of Trustees, and as the co-chair of the search committee that found and selected Ben Mazur as our Director of Congregational Learning.

Misty Weidner
Office Manager

Misty began working at Temple Israel in 2006. She previously worked for nine years as Office Manager at a meat packing plant. She grew up in Defiance, Iowa and currently lives in Minden, Iowa with her husband Bryan and two sons, Brody and Tyler. In her free time, Misty enjoys golfing, scrapbooking, and spending time with family.



Ben Cohen
Youth Engagement Coordinator

Ben grew up outside St. Louis, Missouri, and is joining us from Denver, Colorado, where he graduated with a B.A. in History and minors in Judaic Studies and Psychology. In high school, he was heavily involved with Jewish youth programs, serving on his temple youth group board and later on the NFTY Missouri Valley regional board as communications vice president. He spent three years at the URJ Kutz Camp, where he found his Jewish identity as a camper and then a two-time staff member. In college, he served as Hillel President, interned for the Anti-Defamation League and worked as a part-time Youth Advisor.
In his free time, Ben enjoys playing guitar, traveling to see family, discovering new coffee shops and restaurants, and biking around the Omaha metro.

Michelle Shea
Administrative Assistant

Michelle was born and raised in Omaha and joined the Temple Israel staff in 2016. She attended Arizona State University and previously worked as an advocate for elder care in various communities in the Omaha area. Michelle loves being a mom to her two sons and in her free time enjoys horticulture, painting, reading, hiking, the outdoors, and spending time with family.
Jeff Schweid

Accounting

Jeff was born in New York City and lived there until he moved to a dairy farm in Connecticut at age 12. He has a BS in Biochemistry from Marietta College in Ohio, a Masters Degree in Food Science from the University of Georgia, and a Master of Arts in Business from Central Michigan University. He spent 38 years in the Food Industry and then joined the Temple Israel staff in 2018 after retiring and had to fill the big shoes of Vicki Ducharme. Jeff has also served on the Temple Israel Board and been treasurer 3 times.
Jeff has two grown daughters, one in Seattle and one in Denver. He sings in two choirs, Kol Rina at Temple Israel and the Mastersingers of Omaha, and loves music, especially jazz and classical. In his free time, Jeff enjoys reading, theater, running, biking, and exercise. His other hobby is sports car racing and he volunteers as a corner worker for the Sports Car Club of America and has traveled all over the US and Canada working races. Jeff currently lives in Carter Lake and has two cats.

Scott Anderson
Building Supervisor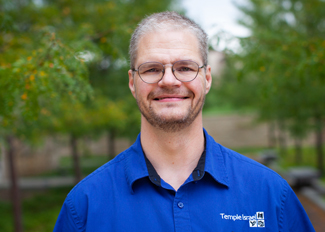 Scott was born and raised here in Omaha. He attended the college of life, majoring in "jack-of-all-trades." He's worked in many areas and has been at Temple Israel for 8 years. Scott has owned many pets including dogs, gerbils and frogs. He enjoys collecting crystals/rocks and creating art in his free time.
Duane Kitchen
Maintenance
Tue, May 24 2022 23 Iyar 5782